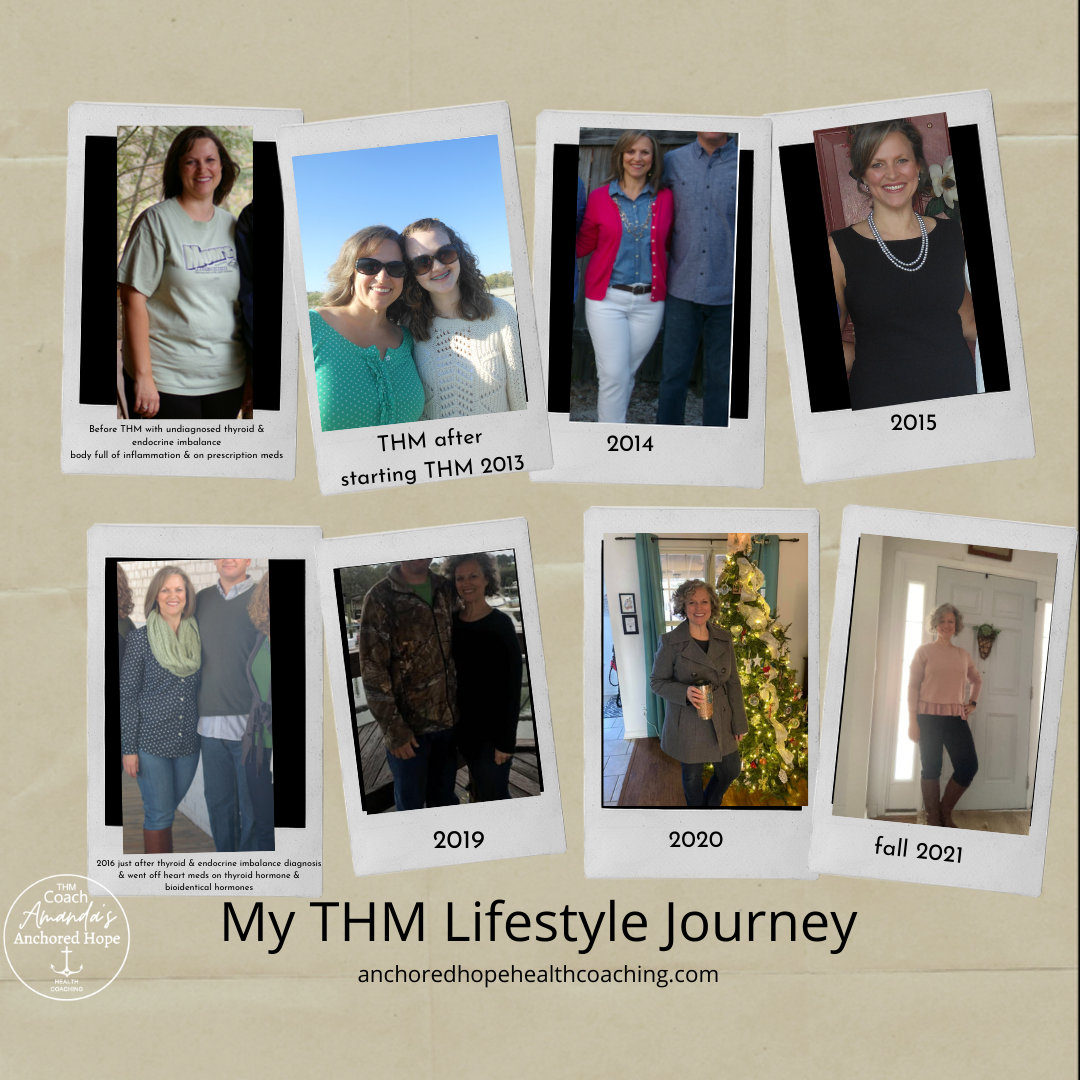 This fall I'm celebrating my 8-year Trimaversary! I struggled with my weight for most of my life until I became fed up with the constant roller coaster of fad diets and fighting my own body and genetics. My weight fluctuated up and down for many reasons that frustrated me. I didn't know at the time, but I had undiagnosed hypothyroidism, adrenal imbalance, and hormonal imbalances.

In 2013 I became discouraged by yet another period of weight gain that ended in a stall and then started creeping back up again. Through a homeschool friend and several faith-based resources, I found THM in 2013. The day my friend introduced me to it, I prayed, researched, and immediately purchased the first e-book. I have never looked back. THM has been an answer to prayer every single day for the past 8 years. THM is a plan that leads to sustainable wellness and weight management without fads and food group restrictions.

Because I had undiagnosed health struggles, it took me longer than most ladies to lose. Even while battling sleepless nights, unknown high cortisol levels, underactive thyroid, and hormonal imbalance, I still lost to within 5lbs of my goal weight and maintained there. (I don't recommend having a number on the scale as a goal but I did at the time). I lost a total of 70 pounds on THM. I was actually wearing the same size as I did when I got married in 1993 even though I weighed 15 lbs more on the scale. I don't know where I would be without THM.

Because of THM, I was able to come off of liver-damaging beta-blockers I was on for over 10 years prior. Because of THM I was finally able to lose weight despite health struggles.Health and wellness is a journey. Just as there are ups in downs in life, there are ups and downs in health and wellness. Why would we think it would be any different.

As a result of the health struggles that were undiagnosed, and because I was over 40, my weight fluctuated from year to year but never more than 15 lbs (which is nothing compared to the 70 excess pounds I started with). Had it not been for THM, I probably would have gained all 70 pounds back and more.

Over the past four years, I have been on another leg of my journey. After finding an integrative physician specializing in hormones, I was finally diagnosed with the above-mentioned health struggles that explained sleepless nights and stubborn weight loss. If it hadn't been for THM, my health would have declined quickly. THM played such a huge role in my healing. I don't even want to think about how bad my health would be if I hadn't found THM.

I've had some gut health struggles as well as a consequence of years of undiagnosed hormonal imbalance. In fact, at one point in 2019, I lost too much too fast and was very weak. Quick weight loss is not the answer. Remember when you compare yourself to someone else, you don't know what has happened in their life to give them the result you may be looking for. You may not want the process they weight through to get there. I would have much rather have lost slowly and had energy than lost too quickly and not been able to function.

Now I'm working on eliminating food allergens and intolerances I have as those also prohibit healing and weight loss, and continued exposure can lead to inflammation and disease.Since being diagnosed, I have been on a journey of healing. I was put on thyroid hormone & biodentical hormones, but no synthetic meds. It's been a long road and a long wait. My body needed time to heal before it could begin to lose again.

At first, I was frustrated. But when I began renewing my mind and giving my health to The Lord, my focus shifted from losing weight to health.The more my body heals, the easier it is for it to let go of those little pounds it needed for healing.

Be encouraged, sweet THMs, that your health is of utmost importance. You are worth more than a number on a scale and a size on a label.Focus on your health. Seek God first. Let Him renew your mind about food and the lies the enemy tells you. Let God take care of the healing and the weight loss; do what you know He is leading you to do to take part in your health. It makes the journey a lot more hopeful and joyful, and that is my prayer for all of us!

Love and blessings!