Have you ever wished you had some hearty and yummy cookies that offered health benefits? It's like a dream come true, right?!?

My kids and I LOVE this recipe! It packs the perfect punch of protein, flavor, heartiness, and mouthwatering indulgent sweetness without the guilt. We make these for breakfasts, snacks, and desserts.
Here are just some of the health benefits of the ingredients lovingly packed into these dreams-come-true:

healthy protein
healthy fat
brain and memory balance
hormone support
resistant starch for fiber
immunity boost
dairy free
gluten free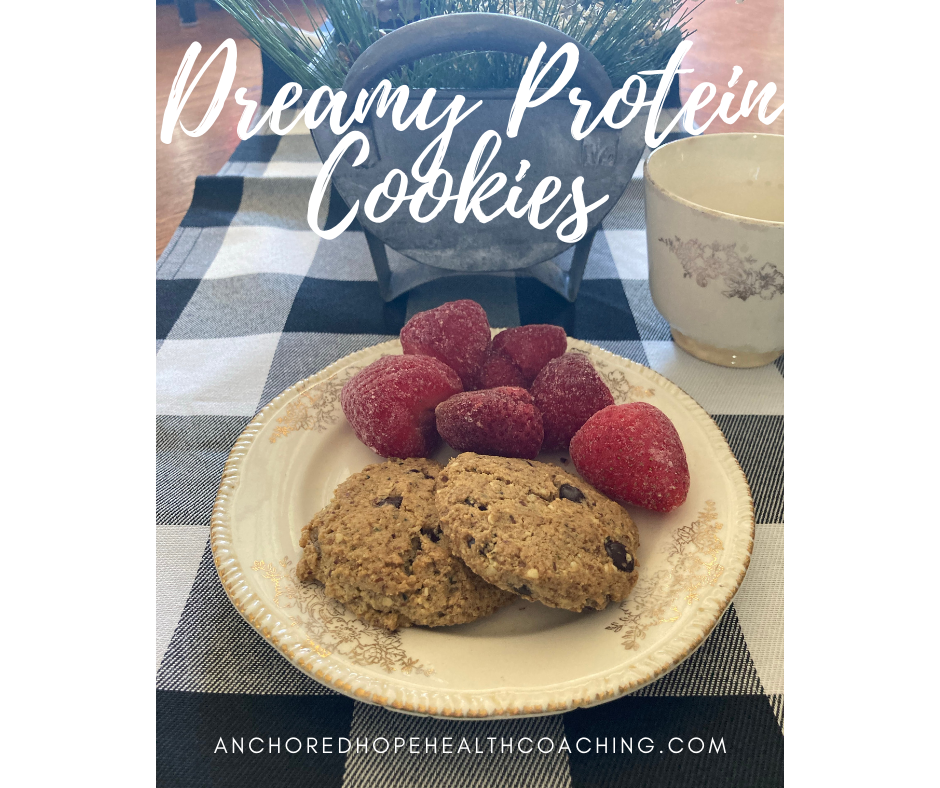 Coach Amanda's Dreamy Protein Cookies, THMS, DF, GF
THMS – 12 servings
0.50 cup(s), Coconut Oil, Organic, Unrefined
0.33 cup, Gentle Sweet or adjust to tastebuds
3 large Pasture Raised Eggs
1 tsp, Vanilla Natural Burst
1 tsp Maple Natural Burst
1.50 cups Blanched Almond Flour
0.25 cup Organic Hemp Seeds
0.25 cup Organic Ground Flax Seed
2 tbsp Organic Green Banana Powder
1 tbsp Baobab Powder
0.50 tsp Baking Soda
2 scoops Integral Collagen
9 Tbsp or 3 scoops Creamy Dreamy Plant Protein Powder
2 oz THM Chocolate Chips

Optional mix-ins: unsweetened coconut flakes, nuts-pecans, walnuts, macadamia nuts, etc., unsweetened dried cranberries, berries (the Trim Healthy Future Cookbook has a good recipe for those) adding these ingredients in 1/4-1/2 cup amounts will not require more liquid.
If you'd like to make these a crossover, you could add oats or chopped fruit pieces like apples, banana.
You could also add defatted peanut flour for a pb flavor. If you do, you can reduce the amount of creamy dreamy hemp, but it will slightly reduce the amount of protein in the cookies.
In a mixer, cream the first 2 ingredients together. Then add eggs and mix well. Add natural burst extracts and mix well. Add remaining ingredients except for the chocolate chips and mix well. Fold in chocolate chips. If adding additional mix-ins, fold those in as well. Bake on 350 for 7-10 minutes or until golden brown and the center of the cookie bounces back up after slightly touching it.

This dough or the already baked cookies freeze very well. Enjoy!