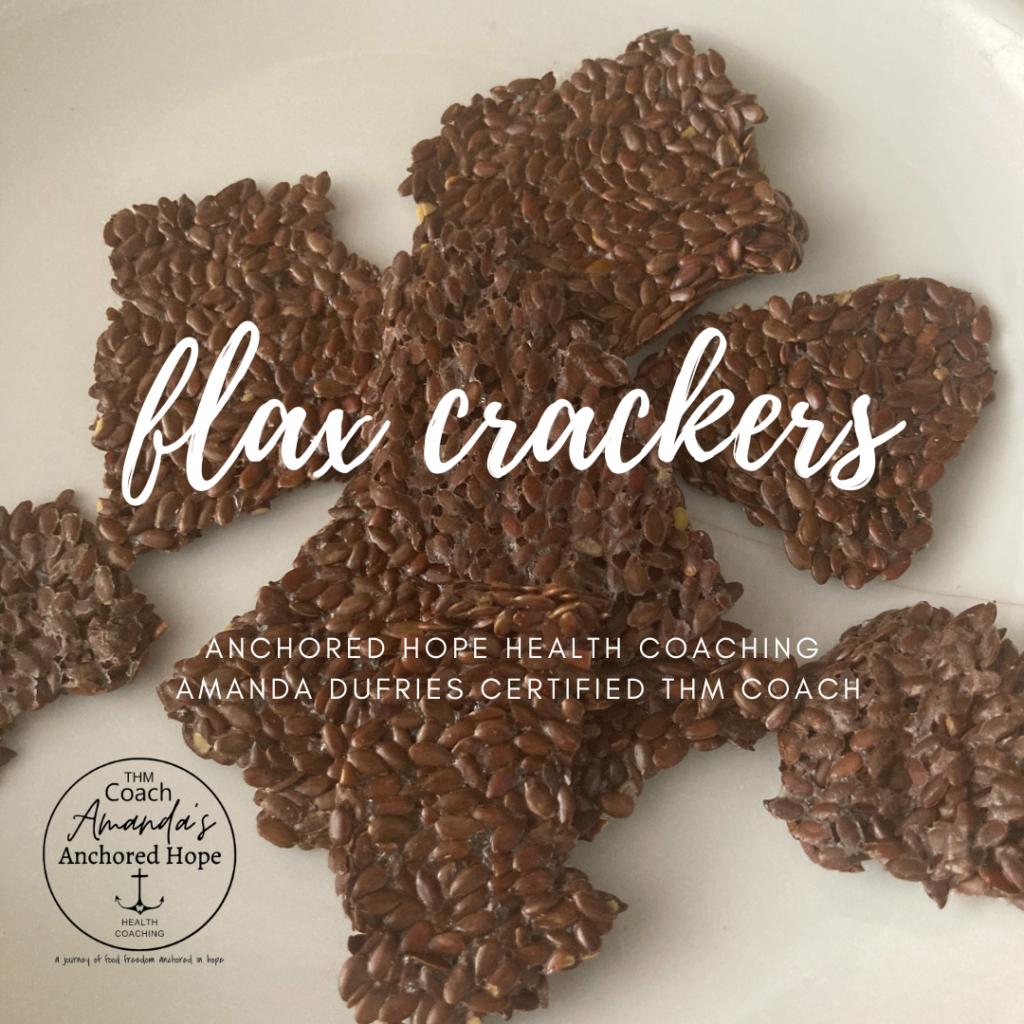 Flax is an amazing superfood that helps balance hormones, adds extra fiber and protein, and contains Omega 3's for heart health!

These are my very FAVORITE crackers…and they are THM friendly and on-plan! Try them out! I think you'll like them!
THMS Flax Crackers

Ingredients
1 cup golden or regular flax seeds
1 cup water
1 tbsp apple cider vinegar
1/4 tsp. sea salt
Instructions

Add the flax seeds, ACV, salt, and water into a medium bowl and stir. Let the seeds soak covered for up to 24 hours in the refrigerator. However, the longer the soak, the thicker the mixture will get. A short soak will allow you to spread the mixture whereas a longer soak will require rolling. If you let the mixture rest for too long (and it begins to get dry), you can add a little bit more water to make it spreadable again.

Preheat the oven. Arrange a rack in the middle of the oven. Heat the oven to 300°F/149°C.
Spread the mixture onto a parchment paper-lined baking sheet and spread/roll it into an even, thin layer. The thickness of the crackers is up to you. Ideally, you would have about two layers of flax seeds. Too thin and the crackers will be very fragile, too thick and they will not crisp up properly.

Score the mixture with the tip of a knife or with a pizza cutter into any shape you like. I typically cut mine into squares.
Bake the crackers until crispy and golden brown, about 60 minutes. The time will depend on the thickness of the crackers. If the crackers aren't fully dry after about 60 minutes of baking, turn the oven off and leave the crackers in the oven as it cools. The oven will serve as a dehydrator, drawing any extra moisture out of the cracker.

Transfer the baked "cracker" onto a cooling rack, so air can circulate and no condensation takes hold. Once cool, break the cracker along the scored lines.

Store crackers in an airtight container in a cool, dry, and dark place for up to 1 week (or in the refrigerator for up to 1 month). For longer-term storage, freeze in an airtight container for up to 3 months.
Enjoy these hearty THMS crackers on the side of a salad or as a snack.