Smoothies are my quick, go-to meals especially when I'm rushing out the door.
However, I don't always want to "drink" my meals.
Smoothie bowls are an enjoyable, delicious alternative!
I love them because they remind me of ice cream.
Sneaking or hiding veggies deep beneath all of the flavor helps me round out my THM meal with nonstarchy veggies for fiber and metabolism.
And who doesn't love abundance of yummy toppings?!?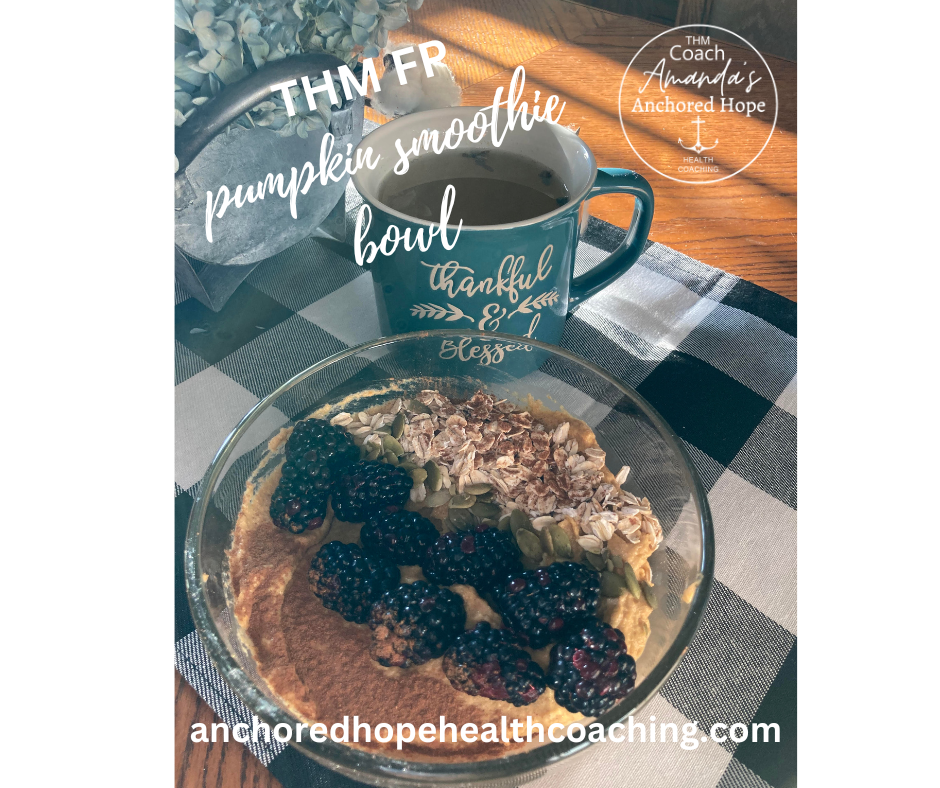 1/3 almond milk (if using a Ninja Smoothie Bowl Maker measure to fill line)
1/3 cup frozen cauliflower
1/3 cup frozen pumpkin puree (not pumpkin pie filling)
1/4 tsp pumpkin pie spice
1 tbsp gentle sweet or 2 doonks stevia or 1.5 tsp super sweet (always remember to start with less sweetener and taste because each person has different taste buds)
1 pinch mineral salt
3 tbsp THM optimized creamy dreamy protein (for dairy free version) or 4 tbsp THM optimized whey
1/2 tbsp collagen

Add all ingredients to your blender or Ninja Smoothie Bowl Maker (this is what I use and it makes life so much easier. It also saves space on the countertop and makes drinkable smoothies, too).
As written, this recipe is a fuel pull. Optional toppings will determine if it will be an S or an E or a FP.

Optional S Toppings
seeds like pumpkin, chia, hemp
nuts
nut butter
coconut
on-plan baking chips

Optional E Toppings
Fruit
oats

Optional FB Toppings
less than 1 cup red or black berries
less than 1/2 cup blueberries

Smoothie bowls are a great option for getting a balanced THM meal. Enjoy!